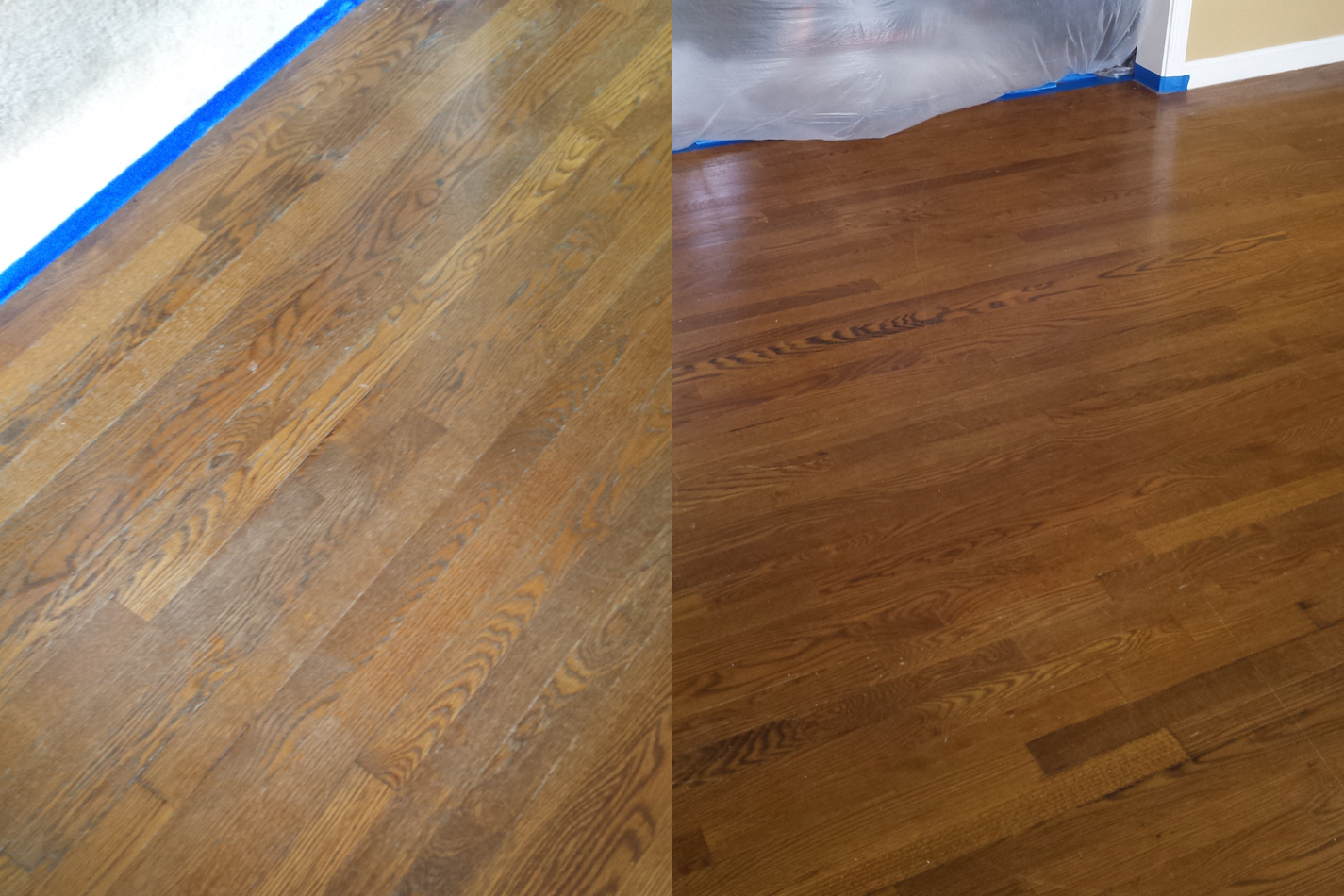 Even if you don't own pets, you may notice gray areas that fade into the rest of your floor. Gray areas are evidence that your hardwood floor needs refinishing. Regular wear and tear causes dirt to filter into nicks, dings, and recesses, ultimately filling the natural grain of the wood.
You might assume that simply cleaning, buffing and recoating the floors might correct the issue. Unfortunately, this approach will only yield clean shinny floors… with gray spots underneath. Not a pretty sight.
To make gray spots disappear from the floors it is necessary to strip the floors from that top surface and remove the thin layer where the dirt has accumulated. The process is called sanding and refinishing and is done in several steps:
1: After all the furniture has been removed from the floors, the shoe molding is removed from the base of the walls. This is done so that the edger (a sanding machine used to sand the edges where the larger drum sander cannot reach) can be used and all the floors stripped to their edges.
2: The next step involves a drum sander to strip the floors of the top finish and existing stain. This step is done in several cuts using different sanding papers with variable coarseness. The initial cut is performed with a coarse paper, between 36 and 60 grit. On a second pass a higher grid is used, say between 60 and 80. And a third cut is usually done with fine grid paper, from 100 to 220.
3: After buffing the floors one more time, the stain is applied.
4: After the stain is dry, an initial coat of sealer is applied followed by at least two coats of finish.
5: Shoe molding is replaced.
Refinishing floors can take between 3 to 4 days, depending on the size of the area to be treated. Today's technology allows for a virtually dust-free process–that is between 90% and 95% of dust free. This is accomplished by containing the dust during the whole process, keeping your living environment clean and livable.
Always make sure your contractor uses the best products available, both for the stain and finish. Virginia Top Floors only uses top of the line stains and German made finishes that dry in only two hours.
To get your old gray floors looking like new again, give us a call at 703-537-9699. One of our expert technicians will evaluate your floors for free!