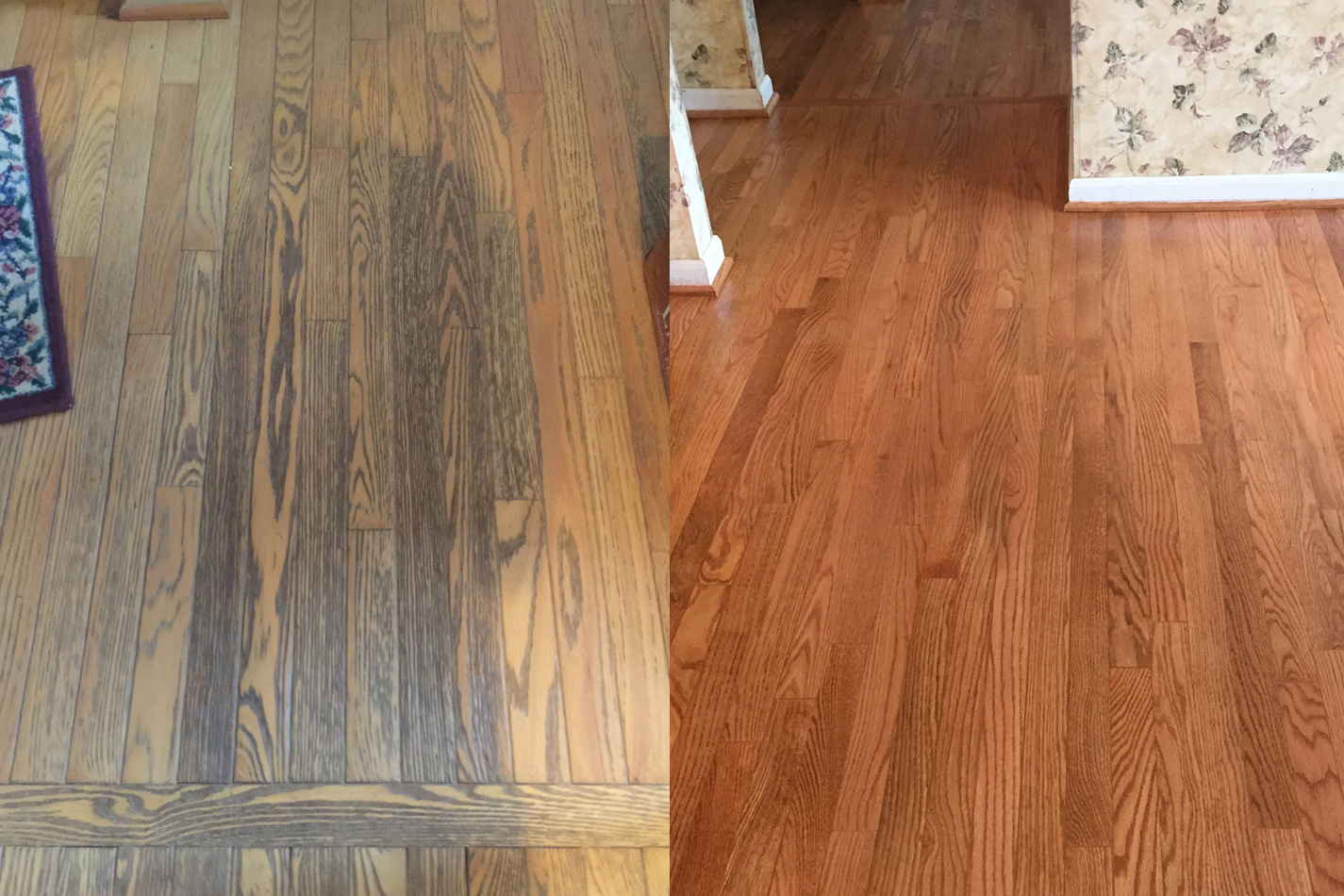 Avoid replacing your hardwood floors; hardwood floor refinishing in Franconia, Virginia.
Regardless of whether you have installed and finished-in-place hardwood floors or pre-finished ones, years of wear and tear and damage from pets, water, or sun exposure will cause serious damage to your floors.
These floors—although riddled with scratches, stains, blemishes and imperfections—are still good, solid wood floors! They can be made to look new by completely resanding and refinishing them.
Long gone are the days of the big cloud of dust. Virginia Top Floor provides Franconia VA, homeowners with virtually dust-free hardwood floor sanding and refinishing services.
Hardwood floor sanding, staining and refinishing is perfect for floors that exhibit:
• Deep scratches
• Scuff marks
• Paint residue
• Extensive wear and tear
• Water damage
• Color fading caused by sun exposure
If your hardwood floors have not received maintenance in the last 6 to 10 years, now is the time to call the hardwood floor restoration experts at Virginia Top Floors! 703-537-9699 or 571-315-9876.
Dust-free sanding and refinishing is perfect for installed and finished-in-place solid wood floors and pre-finished floors (like Bruce®). Engineered floors are different. Since they're not solid wood, they can be cleaned and buffed, but not sanded.
Click here to read more about our hardwood floor Screening and Recoating maintenance service.
Most likely, there's no need to replace your floors!
In our experience, most floors with scratches—even deep ones with gouges, water stains, split boards, pet urine, and sun damage—can be shine with a brand-new look if they receive quality, dedicated repairs and attentive sanding and finishing.
What do Virginia Top Floor's sanding and refinishing professional services include?
Step 1: Shoe molding and registers
After all furniture has been removed from the room –either by the homeowner, or by Virginia Top Floors–, all existing shoe molding and ventilation registers are removed. This step may seem superfluous, but it's essential to ensuring professional-looking work. The sanding, staining, and refinishing work needs to go all the way to the edge of the boards. Risking the possibility of color or stain buildup where the floor meets the shoe molding or the registers, or risking uneven application by going around them, or skipping parts of the sanding to avoid rubbing up again existing molding—these are short cuts we won't take.
Step 2: Sanding
We then strip the original finish and color from the floor using a drum sander, which is an acquired skill. Because drum sanders remove wood with every pass, they must keep it under control using a combination of strength and technique. Used improperly, a sander can quickly eat into a floor and ruin it. Virginia Top Floors runs our sanders using various cuts in sequential steps, changing and gradually decreasing the grit of the paper until a smooth surface is obtained. A final sanding using very fine grit paper ensures an evenly smooth surface that will accept the application of color and finish properly.
Step 3: Staining
When all sanding is done, the floor is visually inspected for any remaining sanding marks. These are removed, and it's time to stain the floors. We apply one coat of stain, or might water pop the floors to attain a deeper shade of the same color.
Step 3: Finish Application
After the stain is dry–2 to 3 hours after the stain is applied–, we apply a coat of sealer and a few coats of premium water-based polyurethane.
Step 5: Buffing
Once the finish is thoroughly dry, we buff the floors to eliminate any surface imperfection and produce a highly polished surface and a final coat of finish is applied.
Step 6: Drying
Within four hours after the final application, the finish is thoroughly dry and can sustain light traffic, and the furniture can be moved back in place. We always suggest that you place protective furniture pads on all the furniture parts that touch the floors.
What is the cost for hardwood floor dust-free sanding and refinishing?
Total resanding, staining, and finishing services start at $3.75 per square foot which includes 1 coat of sealer and two coats of finish. Other charges like shoe mold installation, additional coats of finish, carpet removal, and furniture moving may apply. All services are discussed with you in advance, and costs are explained and detailed in our initial estimate.
REQUEST AN ESTIMATE TODAY! or call us at 703-537-9699 or 571-315-9876