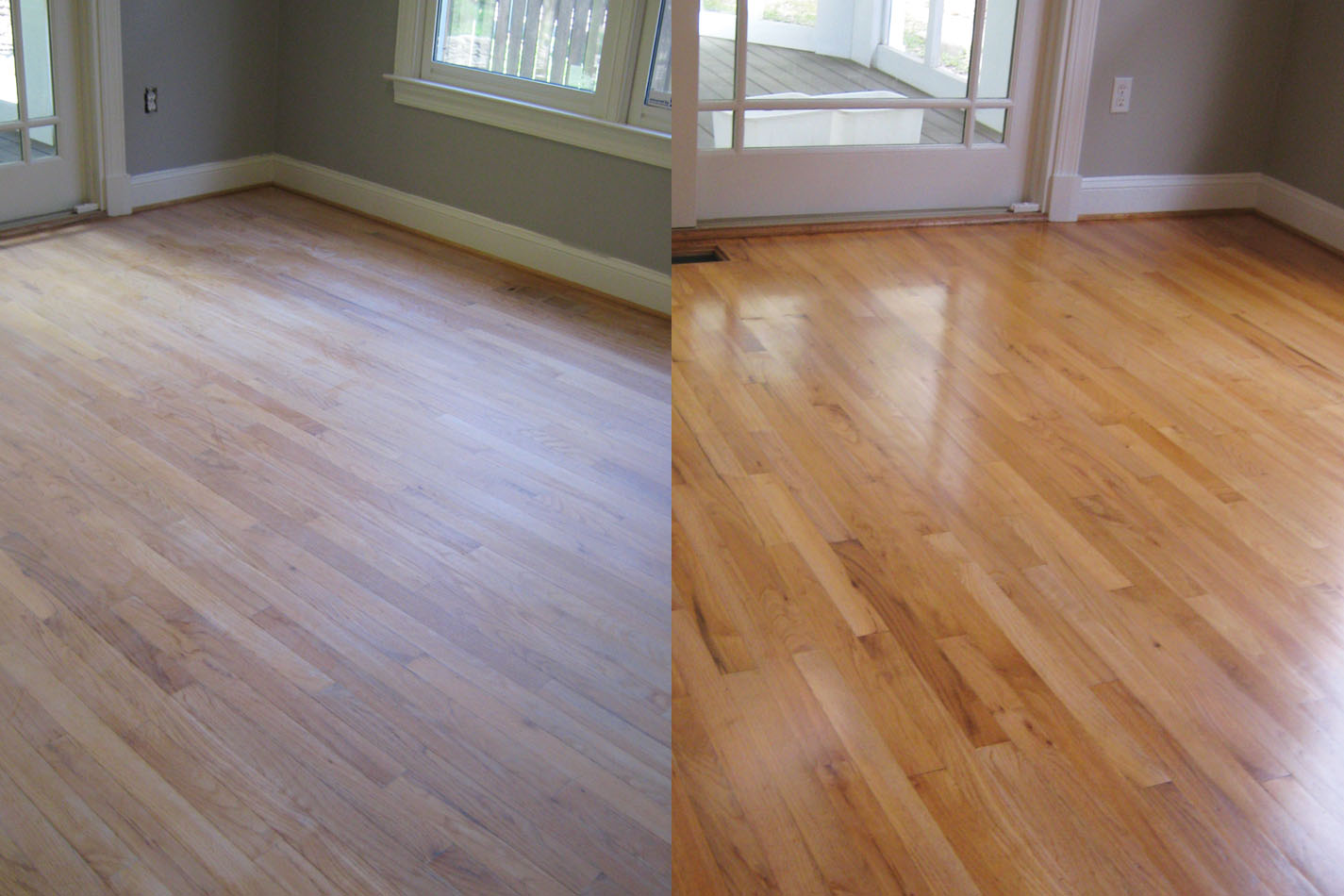 How to avoid refinishing your hardwood floors; Wood Floor Cleaning, Catlett VA
Don't automatically assume your worn-looking floor needs resanding, refinishing, or even total replacement. If you live in Catlett, Virginia, call Virginia Top Floors for an evaluation. Those wood floors may be in better shape than you think!
Virginia Top Floors provides cleaning and buffing as a maintenance service designed to help you avoid total re-sanding and refinishing of your hardwood floors. This process doesn't reach the actual wood or change the existing hardwood floor stain or color.
Hardwood floor cleaning and buffing is a cost-effective procedure to restore your hardwood floors' luster. Think of it as a deep cleaning of your hardwood floors followed by an application of a fresh coat of finish. You may have visited historic homes with beautiful, original wood floors that are well over a century old. The caretakers and owners of these homes have their floors cleaned and buffed regularly. You can, too.
And if you have cleaning and buffing done periodically on your quality wood floors, like the owners of these gorgeous old homes, you may be able to defer resanding, refinishing—even replacement—almost indefinitely.
When should you consider cleaning and buffing your hardwood floors?
Deferred maintenance creates required repairs. Call Virginia Top Floor to clean and buff your floors as soon as it starts to show signs of regular wear and tear or develops stains that can't be removed with regular cleaning.
Hardwood floor cleaning and buffing is perfect for hardwood floors with:
• Superficial scratches
• Scuff marks
• Paint residue
• Dull sheen
If your hardwood floors have not received maintenance in the last 3 to 5 years, now is the time to call the hardwood floor restoration experts at Virginia Top Floors! 571-315-9876.
The cleaning and buffing maintenance service is perfect for installed and finished-in-place solid wood floors, pre-finished floors (like Bruce®) and engineered wood.
What to do if it seems too late?
Only floors with superficial scratches and blemishes are good candidates for a cleaning and buffing maintenance service. Deep scratches, discoloration or areas that are completely void of finish cannot be addressed simply by cleaning or buffing them. Read about our dust-free sanding and refinishing service to treat these problems.
How long does cleaning and buffing your hardwood floors take?
Depending on the square footage of the floors, the process can be done in as little as one day! However, each case has to be assessed individually in order to determine the time needed to complete the work.
Another factor that may influence the length of the job is whether the rooms are furnished or not, and how much furniture is in a furnished room. For example, our one-day service applies to areas up to 1,500 unfurnished square feet. Smaller areas with furniture might also be done in a day.
What do Virginia Top Floor's cleaning and buffing professional services include?
Step 1: Cleaning
We deep-clean the hardwood floors to remove the residue from old cleaners, hardened wax, and accumulated grime.
&nsbp;
Step 2: Screening
Screening or buffing uses an abrasive pad or screen to remove superficial blemishes from the top surface of the old finish without disturbing the color underneath. A vacuum unit is integrated within our buffers to collect the dust as it is produced, which the process virtually dustless.
&nsbp;
Step 3: Vacuum
The next step is to vacuum thoroughly to ensure that the floor is ready to accept the finish application. The floor needs to be as clean and clear as a fingernail before nail polish is applied to it.
&nsbp;
Step 4: Finish Application
We apply a water-based, eco-friendly polyurethane finish to the cleaned, buffed/sanded, vacuumed floor.
&nsbp;
Step 5: Drying Time
Within fours hours after application, the finish is thoroughly dry and ready for light traffic. All furniture can be moved back in place the same day, making sure you place protective pads under every furniture part that comes in contact with the floors
What is the cost for cleaning and buffing my hardwood floors?
The average cost for cleaning and buffing hardwood floors is $1.50 per square foot for finished in place floors and $2.25 for pre-finished floors.
REQUEST AN ESTIMATE TODAY! or call us at 571-315-9876